In-brief: A report by Verizon finds business adoption of IoT is growing quickly, boosting that company's Internet of Things numbers. But increased business adoption of IoT brings risks to privacy and security.
Debate about the potential for enterprise adoption of Internet of Things is common within the high technology and investor community. But a report this week from Verizon makes clear that enterprise IoT adoption is beginning to take off.
Verizon said that it is seeing double- and triple-digit percentage growth in adoption of Internet of Things technologies across many key verticals including manufacturing, banking and financial services and healthcare. The company said its own IoT business has grown almost 50% year over year, and that enterprise IoT market is poised for strong growth, rising to 5.4 billion business-to-business connections across the globe by 2020, from 1.2 billion b-2-b connections today.
The report, State of the Market: Internet of Things 2015, culls data from Verizon's network along with data from firms like IDC and ABI Research. In measuring IoT adoption, Verizon counts growth in cellular, fixed line, satellite, and short-range wireless connections.
Verizon says adoption of Internet of Things technologies by businesses is being driven by a number of factors. For one thing, the declining cost of sensors, connectivity, and data processing power is lowering the return-on-investment (ROI) for Internet of Things adoption. An improving economic outlook in some regions as well as rebounding investor and consumer confidence is spurring business investment, as well, Verizon concluded.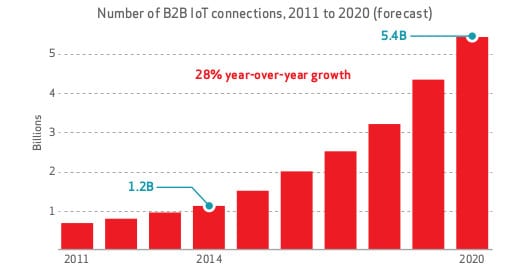 Still, heavy investment in Internet of Things technologies is still more the exception than the rule in the business sector; Verizon puts the percentage of businesses that are "extensive" users of IoT technology at just 10%. Even modest reliance on IoT is still enough to drive impressive growth numbers. Verizon reports that revenue derived from machine-to-machine (M2M) connections continues to grew 45% year-over-year in 2014, with 4GLTE activations growing by 135%. Verizon said it now manages more than 15 million IoT-enabled connections for a wide range of industries.
The company said that adoption was strongest in manufacturing, where IoT connections increased more than 200% in 2014. Finance and insurance were next, with a 128% increase in the number of IoT connections last year, followed by media and entertainment with a 120% increase. While the business impact of adoption has yet to be measured, Verizon predicts productivity improvements in the range of 25% for companies that are enthusiastic adopters of Internet of Things technologies.
No surprise: Verizon predicts that IoT adoption will "fundamentally change how the world sees data security and privacy." The Internet of Things puts "every sensor, device, and connection that gathers, transmits, stores, or processes sensitive data" at risk – greatly expanding the (cyber) attack surface of organizations that embrace Internet of Things technologies.
Hardware, software and communications are all vulnerable to attack on the Internet of Things, the report concludes. And, "because IoT is all about physical 'things'," hackers who successfully compromise IoT technologies can cause kinetic, real world damage: tampering with infrastructure like electrical grids and traffic signals, or put lives at risk by meddling with healthcare devices, airplanes, or elevators, the report warns.
Verizon recommends that companies that are exploring Internet of Things technologies make security a high priority from the beginning and evaluate threats that are specific to the technology being developed. Emphasizing strong authentication and identity assurance and making sure data is secure at rest and transit are critical. Finally: companies need to prepare to manage IoT technologies remotely, with plans for updating devices and responding to security incidents such as stolen credentials.
Download the Verizon Report here to read more.