Most folks are still trying to figure out what "security" in the context of "The Internet of Things" actually means. But that didn't stop Cisco Systems from throwing down a challenge to the tech sector: develop security solutions that address problems specific to The Internet of Things and win a cash prize.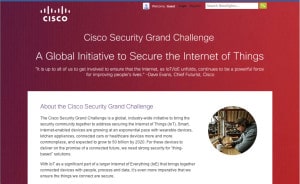 In a blog post, Chris Young, a Senior Vice President in Cisco's Security Group, announced The Internet of Things Security Grand Challenge, saying the contest would offer "visionaries, innovators, and implementers…the opportunity to define a future of a secure IoT," and pledging up to $300,000 in prizes and awards up to $75,000 for six winners.
Cisco has set its sights on the emerging "Internet of Things" in a big way – leveraging its deep roots as a networking infrastructure provider to carriers and enterprises, and ancillary businesses such as set top boxes and low-cost networking equipment for homes and small offices to Internet-connected surveillance cameras. The company has been advocating technologies that can secure data and communications for new kinds of smart endpoints, such as connected vehicles. Cisco has also set up an Internet of Things-focused business unit to explore new offerings for IoT.
"With the IoT as a significant part of the larger Internet of Everything (IoE) market transition that brings together connected devices with people, processes, and data, it's even more imperative that we ensure the things we connect are secure," Young wrote.
The company is soliciting proposals for IoT security solutions and will have a team of experts from within the company assess their feasibility, scalability, performance, and ease-of-use. The company is looking for technologies that can address security problems that stretch across IoT verticals such as manufacturing, mass transit, healthcare, energy. Submissions will be judged based on the maturity and viability of the proposed approach and the proposers' expertise and ability to realize their vision.  Up to six proposals may receive prizes ranging from $50,000 to $75,000.
Cisco will announce the winners at the Internet of Things World Forum (a Cisco-sponsored event) in the fall. This isn't Cisco's first foray into security and The Internet of Things.